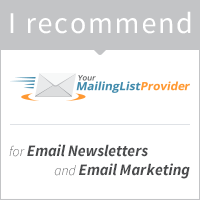 Are you looking for inexpensive email marketing software?
Do you want to automate your email marketing?
Do you want to schedule sending of your newsletters?
When I first started building a list of subscribers I used software installed on my server. When the list got past 1000 subscribers my web host said I could only send 1000 emails per day. I then researched reliable email marketing software and found YourMailingListProvider also known as YMLP. I hope this review of YMLP will help you make an informed decision.
Top 7 Benefits of YMLP
1. Easy contact management
YMLP provides the HTML code to add a sign up form on your website. It automatically stores your contacts in a database where you can add/edit/delete them as you wish. Duplicate contacts are automatically removed. If you already have a list it can easily be imported into the software. An unsubscribe link is included at the bottom of each newsletter.
2. Schedule delivery of your newsletters or emails
I like to write my newsletters a few days ahead of time before sending them out so I can let it sit for a while then correct errors I didn't see before. If I go on vacation for a couple of weeks I can schedule them to be sent out automatically. This saves me the hassle of doing it manually.
3. Inexpensive
I looked into the pricing of the most popular email marketing companies such as Aweber, Constant Contact, Get Response and discovered they are too expensive particularly if you're just starting out building your list. Their prices increase dramatically as your list increases.
YMLP Monthly Prices
$3.75 for 0-500 subscribers
$7.50 for 501-2,500 subscribers
$15 for 2,501-7,500 subscribers
$22.50 for 7,501-12,500 subscribers
$30.00 for 12,501-20,000 subscribers
If you prepay 12 months in advance the price gets reduced by 10%. You can try YMLP for free with up to 25 emails and purchase extra email credits at $5 per 1,000 emails.
4. Tracking
You can track the number of people that open your email and click on your links. Links in your emails can automatically be tagged using Google Analytics so you can track what contacts do on your website. Google Analytics will need to be set up on your website prior to activating this option.
5. Send text or html emails
If you wish to create and send html newsletters YMLP has several templates to choose from. They can easily be edited if you wish to change the color scheme or add images. Images are stored on their servers. It's good practice to offer both types of newsletters…html and text as not all customers prefer html. They will have this option turned off in their email software.
6. Create unlimited autoresponders
Following up on your prospects is the key to building relationships with them. The first contact is usually not sufficient to make the sale but if you send a series of reminders they'll be more inclined to buy. YMLP allows you to set up an unlimited number of autoresponders (text or html or both) so you can automatically schedule the delivery of your emails at pre-detemined times (ie daily, weekly, monthly).
7. Social Media Integration
Many marketers these days use social networking websites to expand the reach of their audience because your sales will increase in proportion to the number people viewing your content. YMLP makes it easy to share your emails on multiple social networking sites by simply inserting a "Share" widget in your e-mails.
If you're looking for reliable email marketing software that is easy to set-up, inexpensive and easy to manage I highly recommend YMLP. I've used them for several years without a hitch and they keep adding new features.
Watch my YMLP Review on YouTube
Click on the banner below to get a FREE test drive.