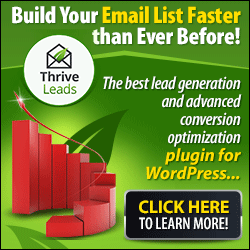 The Thrive Leads Plugin enables you to set up any kind of multi-step opt-in form that you need. The current version contains 3 multi-step opt-in templates with more templates to follow. The strategy is based on your visitor making micro commitments which results in boosting your conversion rates.
Watch the video below to see how it works…
The first form shows you an offer with a button that says "Yes, send me the whitepaper." When you click on the button, without a page reload or any delay it loads a second state of the same form.
This can be combined with the 2-step opt-in form so when you click on "click me" then the multi-step process displays inside the form.
Here's another variation of another multi-step form…
It asks one simple question "Do you want to
double your traffic in the next 30 days?"
It gives you a clear choice of "yes" or "no" If you click on the "yes" option it switches to the actual opt-in offer.
In this case if you click on "click me" and select "No I don't like traffic" then it simply closes the form.
Psychologically there's a big difference between displaying an opt-in form when asking a user to enter their contact information versus a multi-step form that asks a question.
For example "hey do you want this free report?. They just have to answer yes or no before they see the opt-in form.
The human brain cannot help but engage with a question that it is confronted with. If you want to increase your opt-in conversion rates and make your mailing list more responsive then get the Thrive Leads Plugin. Here's my review of Thrive Leads.
Click on the banner below to get the Thrive Leads Plugin NOW!